Summercamp in Berlin and Hamburg

Understanding and speaking the German language as well as a knowledge of habits and customs in Germany are essential parts of this course. We offer this intensive German language and culture course in cooperation with highly motivated and experienced language teachers. You will have the excellent opportunity to improve your knowledge of German depending on your prior linguistic proficiency. Thanks to a level-entry test we can place you in custom made classes with no more than 12 students in one class. By applying the latest teaching methods, highly professional teachers will provide you with learning techniques and up-to-date materials. After completing the course, you will receive a certificate showing your personal language ability. Another plus for our students – this course will be in Hamburg and Berlin – those are the biggest German cities. You will love it!!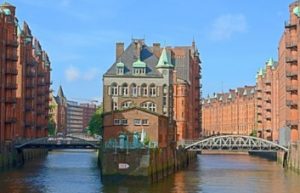 Hamburg – also called the "gate to the world" –The city is the second biggest in Germany and has a lot to offer: impressive sights, a harbor mood, and a multicultural atmosphere, an exciting history and interesting stories and so much more. What was the Hamburg Firestorm? What does Hansestadt mean? Where do people relax in Hamburg? What is their favorite food? What is a Fischkopp? These and many more questions we will answer together.
Our goal is for you to take unforgettable memories of this Hamburg experience home with you. After we spend two weeks in Hamburg and learn about the German culture and of course practice German very hard, we will go to Berlin for one more week. Berlin is a very special metropolis and appeals because of its unique charm. An unbelievable number of sights can be seen, reflecting the mind-set and Zeitgeist of the city and at the same time the rich history and drama of the 20th century. Among other sites, we will visit the Brandenburg Gate, the Reichstag, Checkpoint Charlie, and see what remains of the Berlin Wall. On a Berlin-rally you will explore the city`s sights by yourself and also have some free time to do shopping or sport. Depending on the weather and the interests of the group we will go to one of the great Museums Berlin is famous for, explore Berlin by boat, or go on a tour through the Berlin graffiti art scene.