Report Nelson Mandela School december 3 & december 10, 2020
Report on the climate protection project "Climate Fasting. How to change nutrition in a climate-friendly way?" at Nelson Mandela School.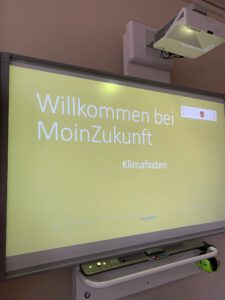 "How can we change our diet in a climate-friendly way?" – A total of 12 groups of students from various Hamburg district schools are addressing this question as part of the "Climate Fasting" project run by aubiko e.V.. The project is supported by the Hamburg Climate Protection Foundation.
December 3, 2020
On Thursday, 03.12. we were warmly welcomed at the Nelson Mandela School. We started the first day of the project with a small tour of the school grounds. Afterwards we got to know the students of class 8c and started with the topic of climate-friendly nutrition. Some students already had a lot of prior knowledge, which led to an exciting discussion. In addition, we collected facts about climate change, consumer behavior and transport routes for our food. The participants learned how to use terms such as "regional" and "seasonal" correctly, as if they were flying.
Our primary goal was to give the students a feeling for climate-conscious nutrition and to provide them with tips on how to do this. Through various playful approaches such as "food activity" or "CO2 memory", the participants learned how to determine the CO2 emissions of food and which foods are climate-damaging or climate-friendly.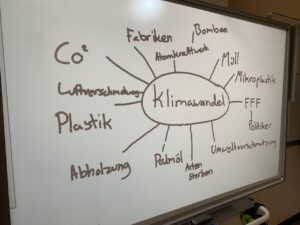 We ended a fun and exciting first day of the project with the highlight of the day: creating a virtual dish on the tablets provided by the school, allowing the class to gain an approximate idea of how much emissions each favorite meal consumes.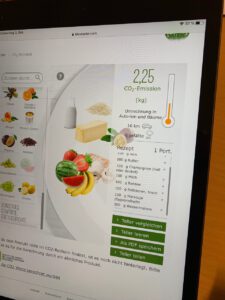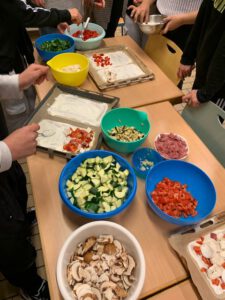 The following Thursday we visited the Nelson Mandela School again. Since this time we had much less time available than in the other schools, we took over the shopping as an exception. This time we were going to have climate-friendly Flammkuchen.
Once we arrived at the school, we determined the origin of the various ingredients together with the young people. This allowed the students to playfully develop a feeling for the transport routes and the environmental friendliness of the products.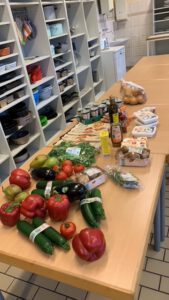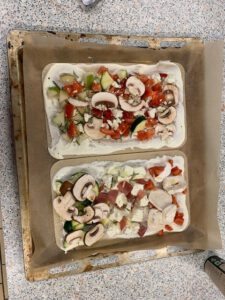 This was followed by the processing of the food. In small groups, the class washed and cut the vegetables and other ingredients, so that at the end of this process a colorful variety of topping options emerged.
Then the participants started topping their Flammkuchen, which led to creative and very tasty combinations.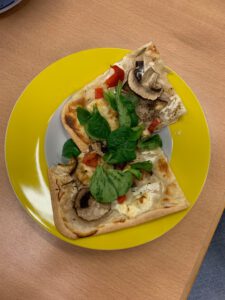 We from aubiko e.V. would like to thank the organizers at the school and all the students for their commitment! We are looking forward to working with you again and hope that you had as much fun as we did!
Your team from aubiko e.V.