Donations in material & money 
Ideal Support
You like our commitment to international understanding and are looking for ways to get involved in voluntary work? Whether as a supporting member, aubiko-exchange- or language-course-alumnus, or simply as a fan of international understanding: We are grateful for all kinds of help!
Support us in the search for host families by forwarding, printing out, or sharing this flyer in your network and displaying it in facilities with a lot of visitors. Perhaps you have families in your circle of acquaintances who are interested?
Do you know a company, an artistic or a social institution that would be happy to receive foreign visitors during a student exchange? Arrange the contact!
Do you have a special topic that you would like to bring closer to the students in the form of a workshop or a lecture? We are open to all suggestions!
Do you have an educational background, so that you would like to volunteer as a guide for city tours or small trips? Let us know!
Do you organize cultural events for amateur groups and would you like to have an audience? Let us know, maybe we will come along with a group of students!
Maybe you also have special know-how that could be important for an association like aubiko (e.g. IT or legal expertise)?
Donations in material & money 
Financial donations help us significantly to expand the impact of our work, especially to organize creative idealistic projects ourselves. If you make a donation to the above-mentioned account, we will of course issue a donation receipt. It is also possible to become a sustaining member and support our association regularly by paying a membership fee. More about supporting membership.
We are also happy about donations like:
Office equipment (hardware or software) and office supplies (paper, pens, etc.)
Sports & Games (e.g. balls, frisbee, etc. for youth meetings)
Free use of rooms for seminars or events
Musical instruments for the music salons
Prizes for school competitions
Tickets for events, admission tickets of all kinds
Train, bus, public transport tickets
Food and/or catering for our events
We thank you in advance for the support!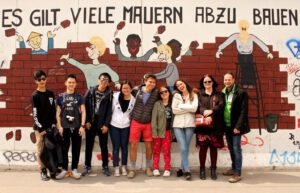 Our donation account
Bank für Sozialwirtschaft

IBAN: DE47251205100001392803
BIC: BFSWDE33HAN
or uncomplicated via PayPal